Bio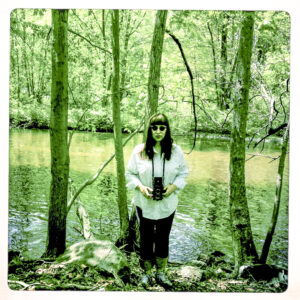 Wendy Erickson is a Delmarva based photographer, writer and teacher. Deeply rooted in the history of photography and comfortable in the traditional and digital darkroom, Wendy's own photographic toolbox includes pinhole and plastic cameras, digital capture and silver halide film, large format paper negatives, hand-coated media for inkjet printing, scannography, digital textile printing, instant photography and combinations of those processes.
She holds BA and MFA degrees in Studio Art: Photography/Digital imaging, and has more than 25 years business experience in marketing and communications, working in the photographic industry for ILFORD. Much of her work explores the unknown and unseen. A serious gardener, she received her Master Gardener Certificate in 2006 through Rutgers Cooperative Extension in NJ. Wendy is especially interested in the complex relationships of people, animals and nature.
She taught photography, digital printing and digital textile printing to hundreds of photographers at prestigious workshop settings in North America and is dedicated to the craft and history of the medium, with special emphasis on education and encouraging young photographers.
Erickson published the book Oiseaux Vigilants, a Suburban Fairytale in 2012 featuring the photographic portfolio with an accompanying story by writer Lydia Fedos. The introduction is by best-selling fantasy author Charles de Lint.
She is the former Editor of photo technique Magazine, and is available for freelance writing. For ten years she taught photography in the Art and Design Department at Montclair State University in New Jersey.
Artist Statement
My images are made with photographic film, pixels, ink and substrates. I capture the mysterious, magical and mythical mysteries of the world as I see them, while traveling along an uncharted but everyday journey. I seek out things I may not understand or want to know more about and at the same time relate a fresh story or evoke emotion from the viewer.